Marie Antoinette's Salon Doré one of the four main rooms of her "Petits Appartements" in Versailles.
These small rooms with their concealed doors escaped the surveillance of spies and favoured love affairs and intrigues. To step through the looking-glass, just as Marie Antoinette used to do, is an extraordinary experience. The four main rooms, the Méridienne, the two libraries, the Salon Doré, their boudoirs and their bathrooms provide a perfect image of eighteenth-century France as we imagine it today.
from
The Private Realm of Marie Antoinette
by Marie-France Boyer & François Halard
Is it any wonder that I have always taken such inspiration from this wonderful suite of rooms designed and created by the finest craftsmen!
Richard Mique
the
premier architecte
to Louis XVI and a favourite of the queen's was given the task of transforming these rooms for her use while the Rousseau brothers, Jules Antoine and
Jean Siméon
, did the decorative work on the panelling.
The Salon Doré was both the most grand and the most public room in the suite;
Neoclassic
in style with "Pompeian" motifs and playful cherubs.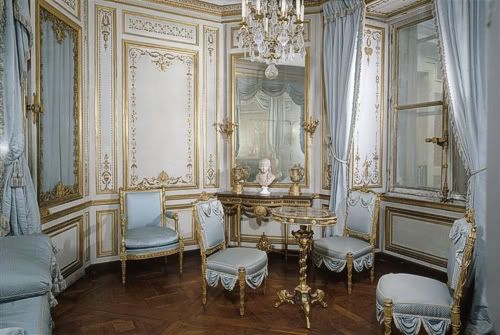 The Méridienne, its daybed tucked into a mirrored alcove, was a place for rest and relaxation. Given to Marie Antoinette by Louis XVI in 1782 to celebrate the birth of the Dauphin, this lovely retreat followed the delicate
Rococo
style
The green library, with its high ceiling was quite simple in comparison.